Join Us
Graduate Students and Postdoctoral Candidates
If you are interested in joining our group in Fall 2017, please apply for admission in EE or MedE by December 15, 2016. Please make sure to indicate your intention to join our group explicitly in your statement of purpose and also email me separately.
Explore our website. Simply speaking, we work hard, play hard. We enthusiastically pursue research & fun inside and outside the lab. We organize group activities throughout the year. (Participation is voluntary.) If you are a highly motivated student who enjoys working in a team of interdisciplinary researchers and also loves to participate in diverse social activities, you will do well in our group.
If you have questions about our group, please feel free to contact me or any of our group members on our People page. You are welcome to discuss individual research projects as well as our group activities inside and outside the lab. I look forward to reading your applications this winter.
You can meet with Prof. Choo in person at ISOT (Nov 7-9, 2016 in Itabashi Tokyo) or at the MRS Fall Meeting (Nov 27 - Dec 2, 2016 in Boston, MA). Please email him in advance to arrange a meeting.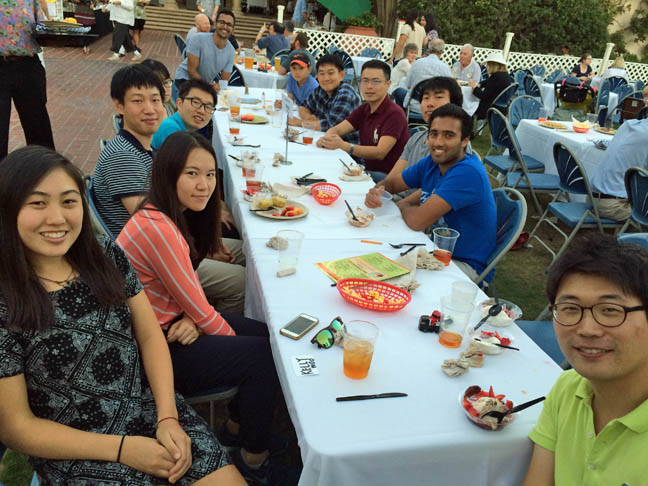 Positions Available
Graduate Student Researchers
We are looking to hire graduate students interested in MEMS, NEMS, nanophotonics, nanoplasmonics, biomedical sensing & imaging, and bio-inspired engineering. Our group includes a number of seasoned researchers who are highly experienced in nanofabrication, micro-/nanoscale optical sensing and testing, optical/photonic simulations, and theoretical modeling. If you are interested in joining our group, please contact Prof. Choo via email and apply through the EE or MedE MS/PhD program.
Undergraduate Student Researchers
We always look for highly motivated undergraduate student researchers. Traditionally in our lab, undergraduate researchers are not just passive by-standers, but they play vital roles in our research, sometimes providing breakthrough solutions to our research projects. If you are highly motivated and interested in working in our lab during the academic year or for the SURF program, please contact Prof. Choo.
Postdoctoral Positions
We currently do not have any postdoctoral positions available.